WARNING: SPOILERS ahead for Winning Time Season 2.
Summary
Winning Time Season 2 features a jam-packed soundtrack with popular funk and soul music from the early 1980s & more, contributing to the show's quintessential Los Angeles themes.
The song choices in Winning Time Season 2 elevate the show's classic tone and appeal, bringing authenticity and fun-loving vibes.
Each song in Winning Time Season 2 plays at pivotal moments, enhancing the storytelling and character development of Magic Johnson and the Lakers.
HBO's Winning Time: The Rise of The Lakers Dynasty returns with a jam-packed season 2 full of popular music from the early 1980s. The bustling soundtrack consists of classic hits and funky deep cuts that span multiple genres and decades and contribute to the fun-loving quintessential LA themes of the celebrated HBO series. While rooted in fact-based sports history, Winning Time's compelling story is elevated by the uptempo and groovy song choices that significantly authenticate the show's classic tone and appeal.
Winning Time retains its season 1 theme song "My Favorite Mutiny" by The Coup, kicking off season 2 in a familiar fashion. Similarly to Winning Time season 1, season 2 combines a sensational soundtrack with an excellent instrumental score that picks up during some of the more dramatic moments of the series. Here is every song in Winning Time: The Rise of The Lakers Dynasty season 2 and exactly when it plays.
Winning Time Season 2, Episode 1 "One Ring Don't Make A Dynasty"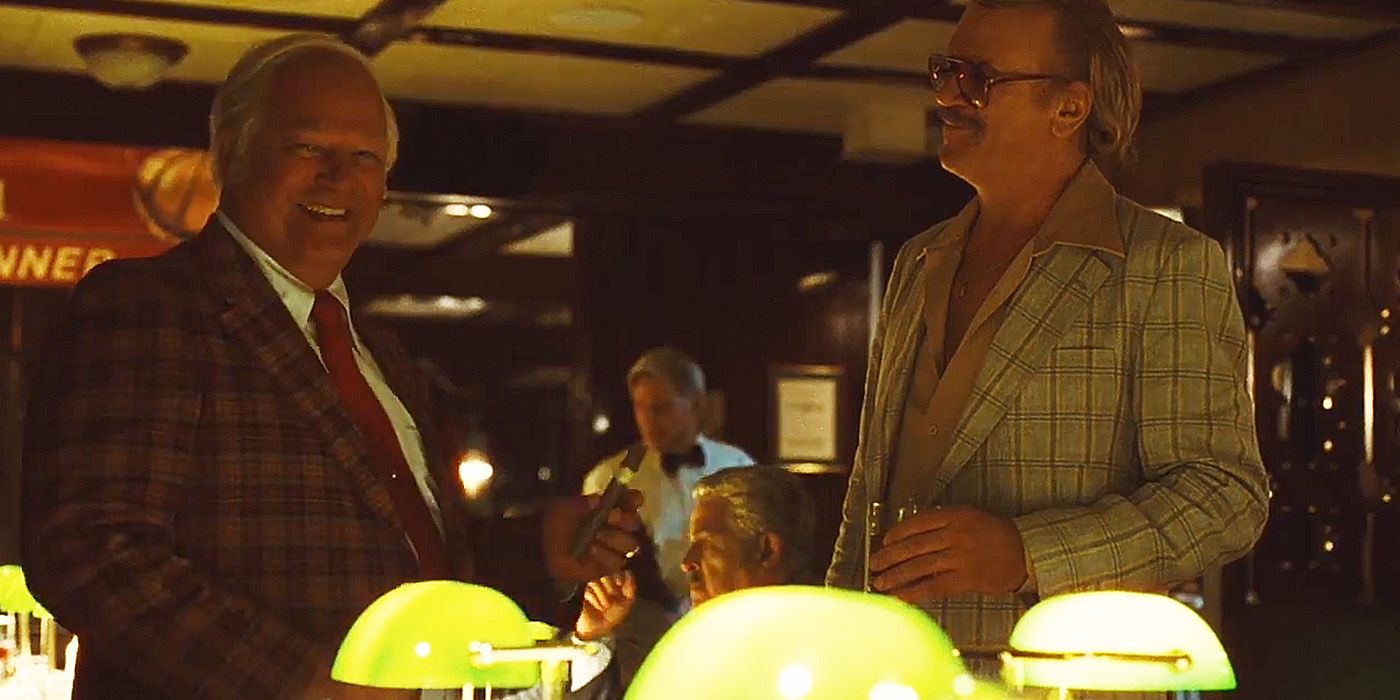 "Let's Go Crazy" by Prince & The Revolution: The popular Prince song plays moments after the Lakers beat the Boston Celtics in the first game of the 1984 NBA Finals on the Celtics' home turf in the first scene of season 2. Without missing a beat, Magic Johnson and his teammates run straight from the court to their bus accompanied by Prince's upbeat classic in the teaser clip.
"Magic" by Olivia Newton-John: This 1980 pop hit originally appeared in the movie Xanadu but acts as a perfect season 2 introduction to protagonist Magic Johnson fresh off his NBA Championship and MVP Award. The song highlights Magic Johnson's skyrocket to fame through commercials and billboards all over Los Angeles and peaks into the hedonistic laurels of his success.
"Volare" by Bobby Rydell: This song by 1960s teen idol Bobby Rydell plays behind the conversation between Jerry Buss and Red Auerbach in New York after the 1980 NBA draft. Auerbach informs Buss of his miraculous trade to get both Parish and McHale, making the Celtics strong contenders for the NBA title in 1981. Volare means 'to fly' in Italian, which might be a hidden ode to Larry Bird in Winning Time season 2.
"Girls On Film" by Duran Duran: This popular 1981 hit by English rock band Duran Duran plays as Coach Paul Westhead meets with his assistant Pat Riley at the Ocotillo Lounge in sunny Palm Springs, California. The two coaches discuss their strategies for the upcoming NBA season while sitting poolside at the stylish club that was owned by Jerry Buss. The Lakers players and coaching staff stayed at the Ocotillo Lounge while the College of The Desert became their training site.
"Keeper of the Castle" by Four Tops: This classic 1972 funk rock song plays as Cookie has an imaginary conversation with Magic in her bedroom back in Lansing, Michigan. Magic appears as a metaphorical voice in Cookie's head, knowing that the simple boyfriend she has now will not satisfy her in the long run. The romantic song has cautionary lyrics that apply to Magic's disloyalty toward Cookie, such as "Be a good man to your lady" which Magic has failed to do.
"Dear Mr. Fantasy" by Traffic: This 1967 classic rock song appears in Winning Time season 2 after Jerry Buss explains to Jerry West why he's willing to spend an unprecedented amount of money to acquire new talent for the Lakers. West can't understand Buss' confidence and willingness to throw around hundreds of thousands, which alludes to the fantastical ideas that Buss has that seem unrealistic to pragmatists.
"Best of My Love" by The Emotions: This iconic track plays during a highlight reel of the 'Showtime' Lakers' hot start to their 1981 season following their 1980 NBA title. It's an early indication that the Lakers are poised to have another great season that could lead to back-to-back NBA championships with their fast-paced and flashy style of basketball.
"I Feel Love" by Donne Summer: Just over halfway through Winning Time season 2, episode 1, Donna Summer's instantly recognizable 1976 dance hit plays over an extended montage that highlights the cultural infatuation with Magic Johnson. The montage is brought to an abrupt halt when Magic injures his knee during a regular season game in November 1980, turning his world and the Lakers' momentum upside down in a tragic instant.
"Feel Good" by Fancy: This old-school-sounding rock song by Fancy was actually released in 2001. It appears in Winning Time season 2, episode 1 when Magic is having sex with a woman while the Lakers are being sorely beaten on television. During the scene, Magic starts to notice how he is treated differently when he's unable to perform on the basketball court.
"Wobble on Back" by The Cymbals: This instrumental track plays during a Buss family game night with his kids, Jeanie, Johnny, and Jimmy, and they have fun playing Monopoly. The song makes it seem like the Buss family is having a great time playing the game moments before a drunk Jerry feels the need to make a point about life and business to his sons, ruining their laid-back game night.
"Time For Livin'" by Sly & The Family Stone: This classic 1974 soul track plays toward the end of Winning Time season 2, episode 1 as Magic meets his first son Andre for the very first time. Magic is surrounded by his family and the mother of his child Michelle Mitchell at a hospital in Michigan. The song is a reminder that Magic must maintain his responsibilities as a father despite his outstanding success as the star of the Lakers.
"You're the One for Me" by D Train: This upbeat and funky pop song plays at the end of Winning Time season 2, episode 1 as Magic is finally able to get his cast removed. Coach Paul Westhead's new offensive System enables the Lakers to pull off some major wins in the absence of Magic, which is elevated by the good vibes of this song by D Train.
"She's My Lady (and She's Lovely)" by The Grooving Company: Following the Lakers' unlikely success without Magic thanks to Paul Westhead's System, Buss and the team are able to breathe easier after going on an impressive winning streak. This funk song sounds like something straight out of the late 70s but was actually released in 2019.
Winning Time Season 2, Episode 2 "The Magic Is Back"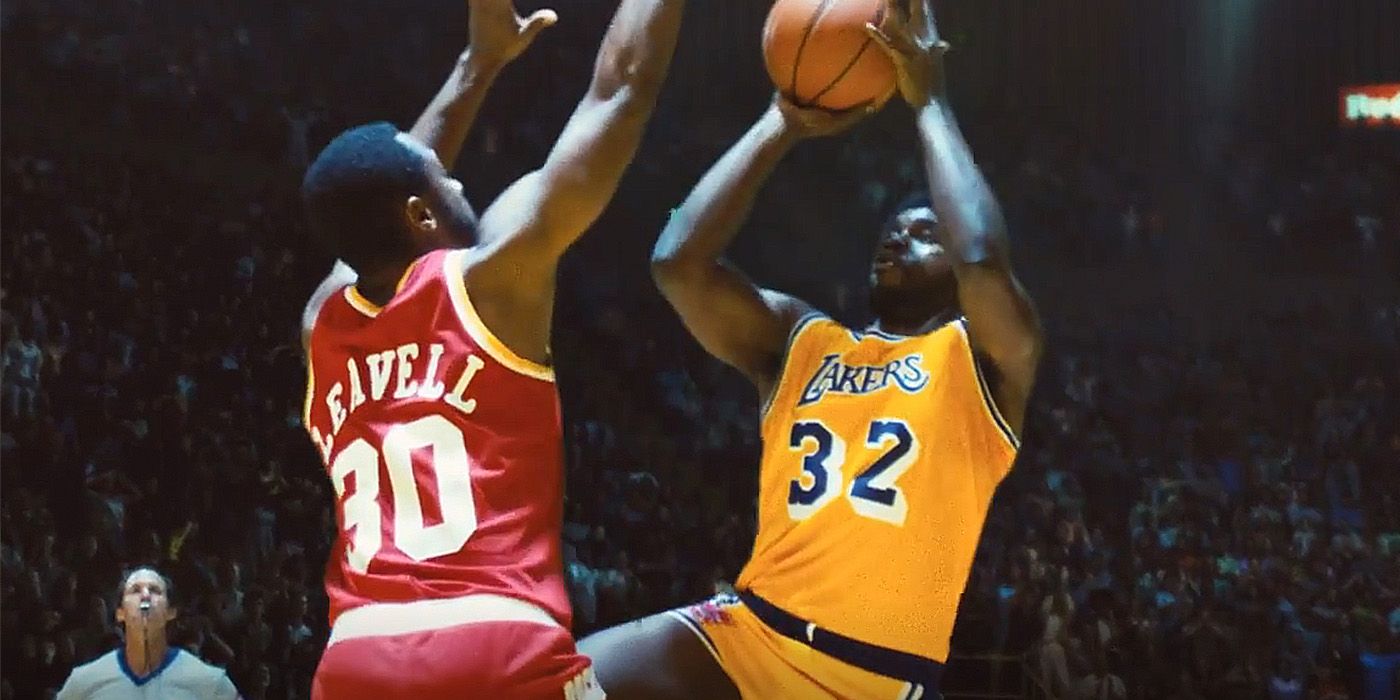 "Urgent" by Foreigner: This classic 1981 rock track plays during the first private workout session that Magic has with assistant coach Pat Riley. Magic is having a rough time readjusting the spotlight after coming back from his knee injury in Winning Time season 2, episode 2. Riley takes Magic under his wing, encouraging him to stop thinking altogether and focus on the urgent need for him to get back to being the superstar player he was before. The Foreigner song marks Magic's reinvigorated mindset during the 1980-81 season.
"Lady (You Bring Me Up)" by The Commodores: Another popular 1981 release by The Commodores is featured in Winning Time season 2, episode 2. The funky soul song accompanies Jerry Buss as he approaches one of his former love interests Honey for the first time in over fifteen years. The upbeat song represents Jerry's excitement in reconnecting with Honey and aligns with his dreamlike sensibilities that the same Honey that he glorified in his mind would still be interested in seeing him after all that time. The song fades to provide a romantic backdrop for their long-awaited flirtatious conversation.
"Rocking" by Brief Encounter: This 1981 disco song by Brief Encounter is featured after the Lakers' Game 2 victory against the Houston Rockets during the first round of the 1981 NBA Playoffs. The song starts playing after the divided and tense Lakers team is finally able to find common ground during the series and continues into the private jet on the team's flight home to Los Angeles. The song provides a celebratory atmosphere that would end up being a brief encounter before things heat up between Coach Paul Westhead and Pat Riley.
"In the Middle of Love" by HP Riot: This 1973 funk song by HP Riot plays toward the end of Winning Time season 2, episode 2 as Coach Westhead learns about Pat Riley's potential betrayal. The feel-good song ironically plays over Westhead's confrontation with Riley before they go to the back of the plane where Westhead accuses Riley of going behind his back to the press. The song's lyrics allude to mixed signals and deception in love, with can be applied to Westhead's confusion and feeling of being misled by Riley on a professional level.
"I Heard It Through The Grapevine" by Marvin Gaye: This 1970 classic by Marvin Gaye is perfectly utilized at the end of Winning Time season 2, episode 2 to highlight the rumors and deceptions that tore the 1980–81 Lakers apart. A major theme of the episode is second-hand sources and conflicting information behind the scenes of the Lakers' locker room and front office. The closing song choice absolutely spot on thematically as well as sonically, seamlessly blending into the soulful soundtrack of Winning Time season 2.
Winning Time Season 2, Episode 3 "The Second Coming"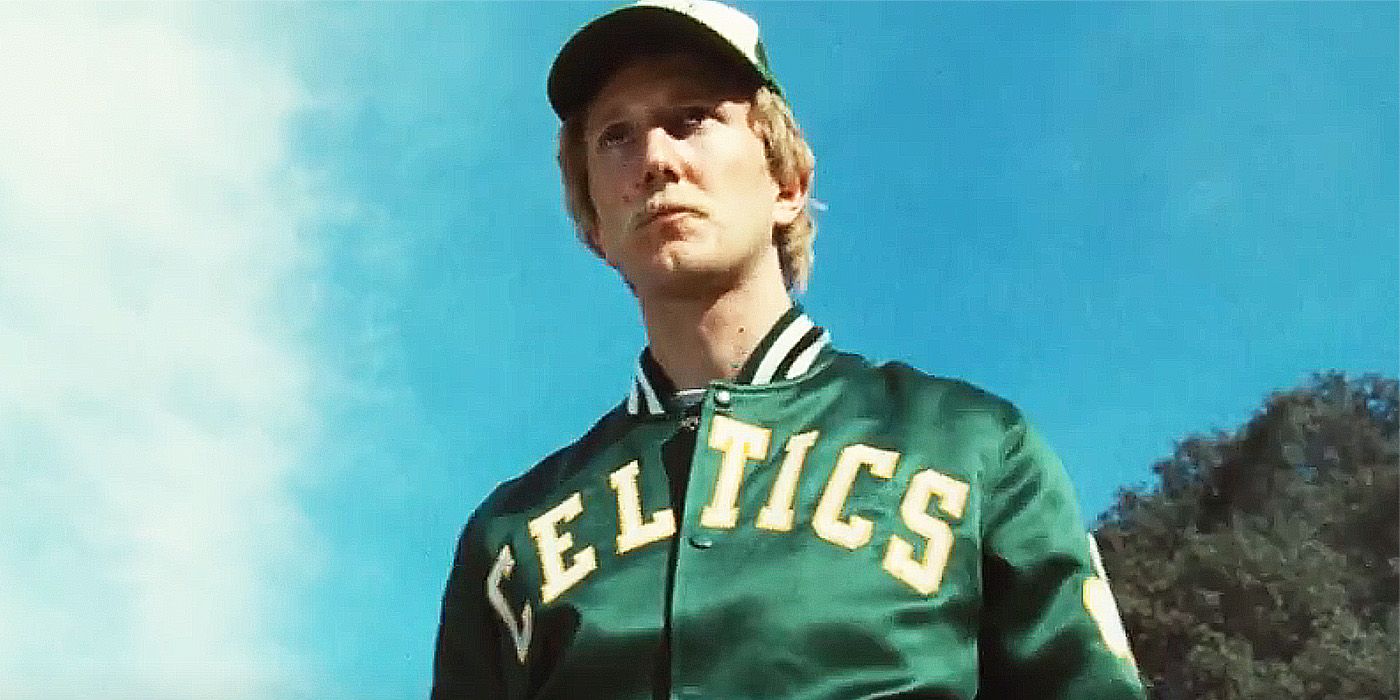 "No Man's Land" by Bob Seger & The Silver Bullet Band: This 1980 classic rock song by Bob Seger plays as the fictional Larry Bird drives through his hometown at the beginning of Winning Time season 2, episode 3. Larry is essentially from a "no man's land" in French Lick, Indiana which had a population of roughly 2,000 people in 1974. The smooth, feel-good song has some country influences particularly in the acoustic guitar that drives the track as Larry goes to visit his father, embodying his nostalgic love for the rural roads of his youth.
"Double Dutch Bus" by Frankie Smith: This popular 1981 funk song also plays at the beginning of the episode following Larry Bird's first flashback after he told his father he dropped out of Indiana University. This upbeat track provides the background music during the Lakers' offseason when Magic Johnson and a few teammates lead a summer basketball camp for kids. The soul song features spoken word vocals from kids, which fits with the context of the summer camp and outspoken children in the scene.
"Get On Down" by Rokotto: This funky track from 1977 plays just before the 11-minute mark in Winning Time season 2, episode 3. In the seven, Jeanie arrives home for a traditional Buss family game night of Monopoly when she realizes her seat at the table has been taken by Jerry's rekindled flame Honey. Jeanie and Honey awkwardly reunite as the bouncy dance song plays in the back, which initially highlighted a vibe of impending fun before Jeanie's bubble gets burst, feeling slighted by her father when he rejects her advance to talk about business.
"Stumblin' In" by Chris Norman & Suzi Quatro: This very notable pop 1980 song is featured in Winning Time season 2, episode 3 as Jerry Buss and Honey's favorite love song. Jerry surprises Honey with an extravagant display of red roses to portray how much he has fallen for her again. Jerry tries to keep his dream alive of rekindling his flame with Honey and plays this vinyl record as he serenades and dances with his love interest. Honey gives in to Jerry's charming efforts and the two dance to the sweet romance song.
"Got That Feeling" by Harry Krapsho: This funk/soul song appears when Larry Bird is playing pickup basketball in his hometown of French Lick, Indiana. The Harry Krapsho track projects the confidence and self-assuredness that Larry demonstrates through his impeccable skill on the basketball court. Even while playing for fun on a small court on. a summer day, Larry's pure shooting show that he's certainly got a special feeling from his love of the game, which Indiana State coach Bill Hodges notices and watches in admiration from his car.
"Hello There (Live)" by Cheap Trick: This live version of Cheap Trick's popular rock song "Hello There" from 1977 plays as Larry Bird shows off his basketball skills at an Indiana State University practice while wearing blue jeans. Larry showed up unannounced and completely dominated on the court, hitting dozens of shots in a row in front of Coach Bill Hodges and the rest of the staff and team. In the scene, Larry makes quite the first impression practicing with the team that he would take all the way to the NCAA Championship game that season.
"Love Is All We Need" by Mike James Kirkland: This 1973 track briefly plays as Magic and Jerry talk about giving that star player a 25-year contract extension for $25 million. The two eat Mcdonald's together as they discuss the terms of the deal, with Magic explaining that he wants to be a long-term Laker. Jerry asks for a full commitment from Magic while also keeping the details of the deal under wraps so it doesn't ruffle any feathers from his teammates. Jerry tells Magic that he considers him family, making the song fitting to the scene.
"Who'll Buy My Memories" by Willie Nelson: This slow-burn song from Willie Nelson plays as Larry Bird travels back home again already a legendary member of the Celtics after winning the NBA title in 1981. Larry walks into his childhood home wearing all his Celtics gear in the same spot he had told his father years before that he was planning on quitting basketball and dropping out of college. The somber lyrics in the song present a melancholic feel in the scene in which Larry reluctantly realizes there is nothing left for him in his beloved small town and his future would now be with the Celtics.