Popular DC and Green Lantern author, Grant Morrison, had some choice words about the decision to kill an alternate earth Flash which by proxy kills a queer romance before it could properly blossom. The Flash Morrison is referring to is Red Racer, the Flash on Earth-36. Created by Morrison himself with Ivan Reis, Red Racer is the fastest man on his planet and a member of the Justice 9, the universe equivalent of the Justice League.
In their Substack released last year, Grant Morrison reflects on their Green Lantern series, which quickly evolved into a side of DC's multiverse that Morrison is extremely familiar with in large part due to the work they did on The multiversity, a series they admit to being "protective" over. As such, they criticize their friend and collaborator Peter Tomasi's decision to kill off this variant of The Flash. This also evolves into Grant Morrison saying that writers should treat separate universes as if they were their own potential franchises rather than one-off stories that exist as a footnote in the larger DC continuity's recent Crisis event.
Related: The Flash showed that Green Lanterns use their rings all wrong
Red Racer's death happened before fans got to fully see his relationship with Flashlight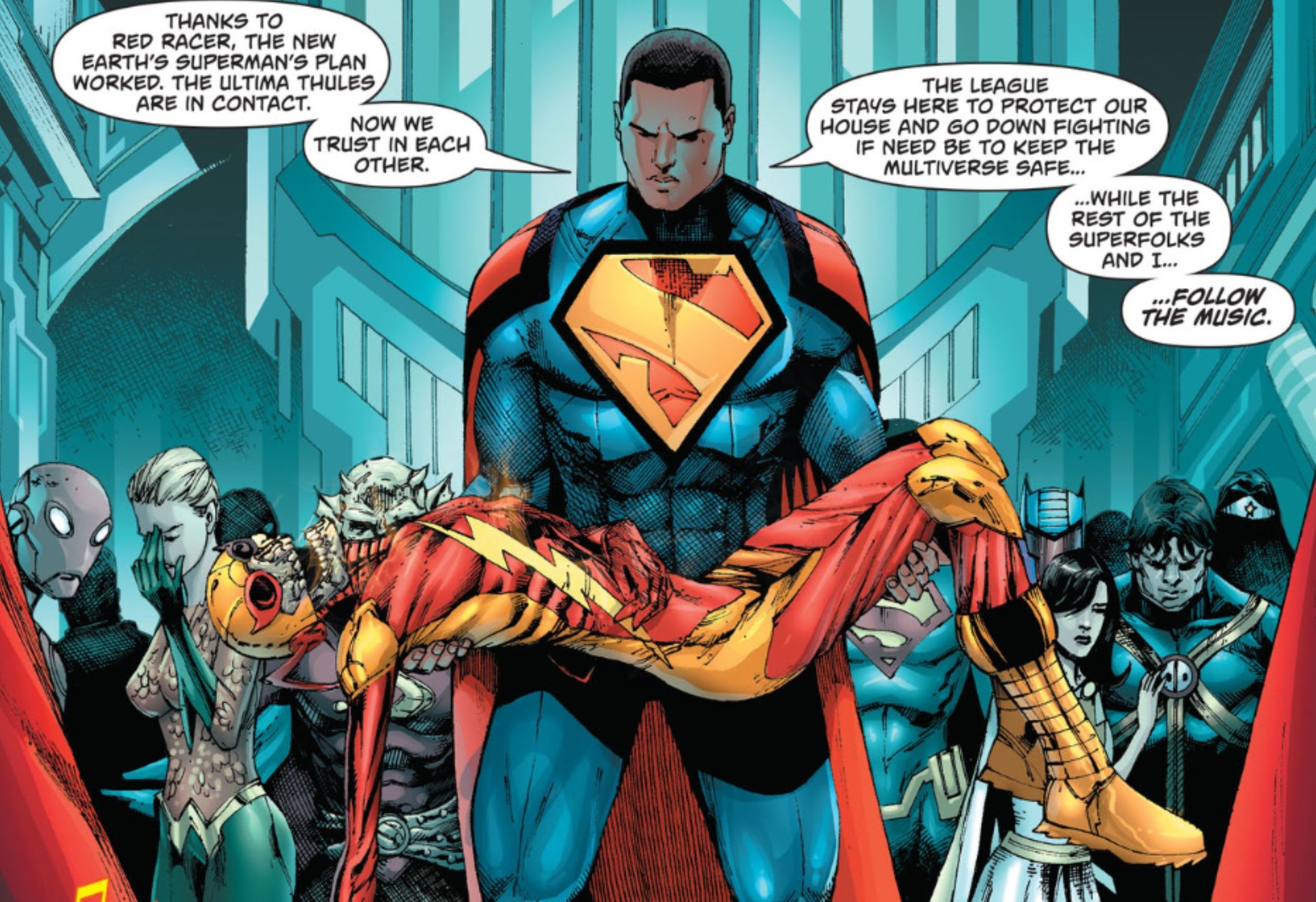 Red Racer was killed in Tomasi, Patrick Gleason, Tony S. Daniel and Clay Mann's Superman #16. Red Racer uses every ounce of his speed to compress a duplicate of Ultima Thule, a move sure to help the heroes save the day. However, he also knows the risk and certain death that this poses to reach such a high speed. Before his sacrifice, Red Racer asks Superman of Earth-36 to relay a message to Hank Hallmark (AKA Flashlight, the Green Lantern of Earth-36): "stay strong and that I love him." When the heroes enter Ultima Thule, they find Racer's body.
As a queer person myself, it's understandable why Morrison would be so upset when Flashlight and Red Racer's relationship wasn't fully explored before the latter's passing. At the same time, their stance on treating the introduction of new universes as their own properties with franchise potential makes perfect sense. After all, series like JLA: Earth 2 from Morrison himself is a prime example of how an alternate universe could actually have its own franchise. To diminish any potential for such a spinoff or crossover appeal before it has a chance to at least be touched is truly a waste.
DC Comics has spent the last few years not only exploring queerness as it exists in their universe, but also embracing it. Both Tim Drake and Jon Kent came out as bisexual in 2021, while Harley Quinn and Poison Ivy have become one of DC's most popular couples. Further exploration of a relationship between Flashlight and Red Racer once had the potential to be as rewarding and laudable as these aforementioned relationships, but unfortunately, at least now, it's not meant to be. Morrison has been hoping that Red Racer could one day be miraculously brought back in style, and if that happens, then the world can finally see DC make the most of what an alternate reality romance Flash and Green Lantern could look
More: Flash vs Green Lantern shows why Batman likes one and hates the other
Source: Grant Morrison